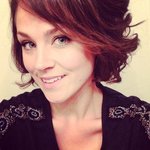 Amber-1107studio
I am a fine artist who dabbles in a number of mediums including graphite, coloured pencil and acrylic painting. I reside in beautiful Brockville Ontario where I spend a great deal of time making my custom creations. visit my website at www.1107studio.com I have been attracted to art and creating things for as long as I remember. I began to really focus my attention to developing my skills around age 13. Graphite was my medium of choice for a number of years and I spent countless hours drawing portraits of people and animals. In 2006 I began my undergraduate studies at the University of Western Ontario and graduated in 2010 with an Honors double major in Visual Arts and History. I decided that it was a goal of mine to share my passion for art and imagination through teaching. I completed my bachelors of education in Intermediate/ Senior Visual Arts and History at Althouse Faculty of Education in London Ontario. I have been working as an Occasional teacher sharing my passion for art and learning for the past few years. I believe that the path of an artist and an educator involves constant discovery and learning. I am always finding out new things about my creative self. Recently I began working with Coloured Pencils, I wish I started long ago! I now offer custom bridal bouquet coloured pencil drawings in addition to my graphite portraits and paintings. Amber-1107studio joined Society6 on July 23, 2013
More
I am a fine artist who dabbles in a number of mediums including graphite, coloured pencil and acrylic painting. I reside in beautiful Brockville Ontario where I spend a great deal of time making my custom creations.
visit my website at www.1107studio.com
I have been attracted to art and creating things for as long as I remember. I began to really focus my attention to developing my skills around age 13. Graphite was my medium of choice for a number of years and I spent countless hours drawing portraits of people and animals. In 2006 I began my undergraduate studies at the University of Western Ontario and graduated in 2010 with an Honors double major in Visual Arts and History.
I decided that it was a goal of mine to share my passion for art and imagination through teaching. I
completed my bachelors of education in Intermediate/ Senior Visual Arts and History at Althouse Faculty of Education in London Ontario. I have been working as an Occasional teacher sharing my passion for art and learning for the past few years.
I believe that the path of an artist and an educator involves constant discovery and learning. I am always finding out new things about my creative self. Recently I began working with Coloured Pencils, I wish I started long ago! I now offer custom bridal bouquet coloured pencil drawings in addition to my graphite portraits and paintings.
Amber-1107studio joined Society6 on July 23, 2013.