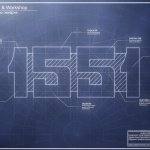 1551 MX
We're just a couple of friends who likes to make creative stuff or so we try, so we created this space to share our creations in a place outside the screen. You can also check our blog on http://1551.mx if you want to know more about us or to see more of the stuff we make if you want. At the same time, we have a little shapeways site too, for the stuff we've made for 3d printing so, you can also check that site on http://www.shapeways.com/shops/burritos Hope you like it. 1551 MX joined Society6 on August 29, 2013
More
We're just a couple of friends who likes to make creative stuff or so we try, so we created this space to share our creations in a place outside the screen. You can also check our blog on http://1551.mx if you want to know more about us or to see more of the stuff we make if you want.
At the same time, we have a little shapeways site too, for the stuff we've made for 3d printing so, you can also check that site on http://www.shapeways.com/shops/burritos
Hope you like it.
1551 MX joined Society6 on August 29, 2013.