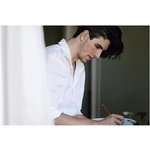 J A K E K U I T
Jake is an Australian born artist, aged 20, located on the south coast of NSW Australia. Drawing inspiration from nature and the world around him he has created diverse artworks from Watercolours to Sculpture and Film photography. The passion and drive for art has directed him globally, exhibiting in Sydney, Melbourne, Japan, London and New York. Recently he was offered the position of working for Robert Montgomery as an intern in his paris studio. All of the works for sale are original and one of a kind. To see more art follow on Instagram - @saltyblackbandana J A K E K U I T joined Society6 on September 22, 2014
More
Jake is an Australian born artist, aged 20, located on the south coast of NSW Australia. Drawing inspiration from nature and the world around him he has created diverse artworks from Watercolours to Sculpture and Film photography. The passion and drive for art has directed him globally, exhibiting in Sydney, Melbourne, Japan, London and New York. Recently he was offered the position of working for Robert Montgomery as an intern in his paris studio. All of the works for sale are original and one of a kind.
To see more art follow on Instagram - @saltyblackbandana
J A K E K U I T joined Society6 on September 22, 2014.
J A K E K U I T's Store
22 results
Filter