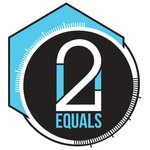 2EQUALS
2EQUALS is an equal partnership formed by Sophie Bland and Grant Pearce, meeting design needs in advertising, branding, conceptual art, photography, illustration, motion and editorial. We work together to combined two diverse technical approaches in order to create outcomes that are somewhat unique! From planning and decision making to the final execution of the design, we are equally responsible and equally involved. Using each others ability, perspective and knowledge we ensure that we look at every detail and ensure that the second person involved is more than helpful in creating the final outcome, spotting change, improvements as well as technical input. Website: www.2equals.co.uk Please visit and Like our Facebook page: www.facebook.com/2equals 2EQUALS joined Society6 on May 26, 2013
More
2EQUALS is an equal partnership formed by Sophie Bland and Grant Pearce, meeting design needs in advertising, branding, conceptual art, photography, illustration, motion and editorial.
We work together to combined two diverse technical approaches in order to create outcomes that are somewhat unique! From planning and decision making to the final execution of the design, we are equally responsible and equally involved. Using each others ability, perspective and knowledge we ensure that we look at every detail and ensure that the second person involved is more than helpful in creating the final outcome, spotting change, improvements as well as technical input.
Website: www.2equals.co.uk
Please visit and Like our Facebook page:
www.facebook.com/2equals
2EQUALS joined Society6 on May 26, 2013.