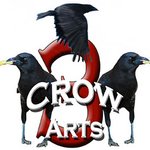 3CrowArts
3 Crow Arts is a creative outlet for photographic images by Lesa Fine. Our shop which has just recently opened this year. ** (Soon we will also be selling chalk painted furniture, vintage clothing, vintage home goods and handmade jewelry) The crows call em' 'Uniquities" Just really neat finds for your bod and your home that can't be listed here on Society6. Check us out on facebook, twitter and pinterest Join, follow, like us tweet us, just peep in to say hi etc....Caws our Crows just love new friends!! 3CrowArts joined Society6 on March 22, 2014
More
3 Crow Arts is a creative outlet for photographic images by Lesa Fine. Our shop which has just recently opened this year.
** (Soon we will also be selling chalk painted furniture, vintage clothing, vintage home goods and handmade jewelry) The crows call em' 'Uniquities" Just really neat finds for your bod and your home that can't be listed here on Society6.
Check us out on facebook, twitter and pinterest Join, follow, like us tweet us, just peep in to say hi etc....Caws our Crows just love new friends!!
3CrowArts joined Society6 on March 22, 2014.
3CrowArts's Store
56 results
Filter