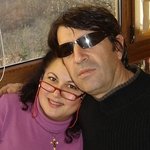 3dgArtStudio
In 3DgArtStudio we are the couple Kostis and Magdalene. We born in Greece, a country with so much natural beauty, which urges you to dream and create. So we could not ignore our artistic inclination. Magdalene: I deal with painting, photography and handicraft from a very young age. For 23 years I worked as an executive in financial business and I raised a successful family. Along with my work and family, I continued working on my favourite hobbies, I participated in group exhibitions of paintings, photography and jewellery, I took over the illustration of children's books and various cover art, I took over the design of exhibitions, etc. Now I'm retired and I can deal with all I love. Kostis: I am a graphic designer for many years now. I love also photography, trekking and travelling. Thank you for seeing our gallery. Find us on: Facebook: https://www.facebook.com/3dgphotoartstudio?ref=... Twitter: https://twitter.com/3DgArtStudio Pinterest: https://www.pinterest.com/3dgartstudio/ Instagram: https://instagram.com/3dgr.studio/ 3dgArtStudio joined Society6 on July 10, 2015
More
In 3DgArtStudio we are the couple Kostis and Magdalene. We born in Greece, a country with so much natural beauty, which urges you to dream and create. So we could not ignore our artistic inclination.
Magdalene: I deal with painting, photography and handicraft from a very young age. For 23 years I worked as an executive in financial business and I raised a successful family. Along with my work and family, I continued working on my favourite hobbies, I participated in group exhibitions of paintings, photography and jewellery, I took over the illustration of children's books and various cover art, I took over the design of exhibitions, etc. Now I'm retired and I can deal with all I love.
Kostis: I am a graphic designer for many years now. I love also photography, trekking and travelling.
Thank you for seeing our gallery.
Find us on: Facebook: https://www.facebook.com/3dgphotoartstudio?ref=... Twitter: https://twitter.com/3DgArtStudio Pinterest: https://www.pinterest.com/3dgartstudio/ Instagram: https://instagram.com/3dgr.studio/
3dgArtStudio joined Society6 on July 10, 2015.
3dgArtStudio's Store
3 result
Filter