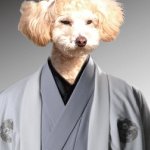 5585ysk
about the "干支" It's called "eto" in Japanese. That is the twelve animal in Chinese astrology. Every year there is a symbolic animal of new year. The cycle is completed every twelfth year. What animals are they? (This year Chinese astorology is the "cock" in 2017.) First → 子 mouse → 丑 ox → 寅 tiger → 卯 rabbit → 辰 dragon → 巳 snake → 午 horse → 未 sheep → 申 monkey → 酉 cock → 戌 dog → 亥 boar → First → 子 mouse…This repeat… "You can tell a person's age from the animal of the year of his or her birth, can't you?" We often have such a conversation in Japan. Yes, asking people in what animal year they were born is, in fact, a roundabout way of asking their age. 
Besides Chinese astrology….      (a un) about the "阿 吽" It's called "Aun no kokyu" in Japanese. The means that can communicate each other without words. Check out my website when you get a chance! 5585ysk joined Society6 on December 29, 2016
More
about the "干支" It's called "eto" in Japanese. That is the twelve animal in Chinese astrology. Every year there is a symbolic animal of new year. The cycle is completed every twelfth year.
What animals are they? (This year Chinese astorology is the "cock" in 2017.)
First → 子 mouse → 丑 ox → 寅 tiger → 卯 rabbit → 辰 dragon → 巳 snake → 午 horse → 未 sheep → 申 monkey → 酉 cock → 戌 dog → 亥 boar → First → 子 mouse…This repeat…
"You can tell a person's age from the animal of the year of his or her birth, can't you?" We often have such a conversation in Japan. Yes, asking people in what animal year they were born is, in fact, a roundabout way of asking their age. 
Besides Chinese astrology….
(a un) about the "阿 吽" It's called "Aun no kokyu" in Japanese. The means that can communicate each other without words.
Check out my website when you get a chance!
5585ysk joined Society6 on December 29, 2016.
5585ysk's Store
13 results
Filter