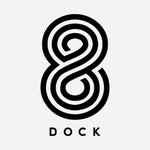 8 Dock
Clayton Gerard is a graphic designer based out of Grand Rapids, Michigan and blogger at claytongerard.com. 8 Dock is a platform where Clayton makes prints for products that he couldn't find at Target or IKEA. -blog: http://claytongerard.com -work: http://claytongerard.com/the-studio -twitter: http://twitter.com/claytongerard -email: 8dock@claytongerard.com Own an 8 Dock print? Use the hashtag #8dock with your print displayed in your home! 8 Dock joined Society6 on March 22, 2016
More
Clayton Gerard is a graphic designer based out of Grand Rapids, Michigan and blogger at claytongerard.com. 8 Dock is a platform where Clayton makes prints for products that he couldn't find at Target or IKEA.
-blog: http://claytongerard.com
-work: http://claytongerard.com/the-studio
-twitter: http://twitter.com/claytongerard
-email: 8dock@claytongerard.com
Own an 8 Dock print? Use the hashtag #8dock with your print displayed in your home!
8 Dock joined Society6 on March 22, 2016.