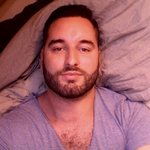 AG28B
I prefer black and white to color. Why I prefer the Black and White? : The black and white makes it possible to extract the essence! l draw the rollerblading I create a story from my childhood and my youth that I draw, while ensuring a leave space to the imagination of the viewer: the fingers of honor, faces, movies, french-kiss, the nude scenes, haircuts , beard hairy. my favorite animals: deer, purple beetle. my favorite geometry: triangle. my favorite toys: legos, playmobil, QEE Art Toy. my favorite color: black AG28B joined Society6 on August 20, 2013
More
I prefer black and white to color. Why I prefer the Black and White? : The black and white makes it possible to extract the essence!
l draw the rollerblading
I create a story from my childhood and my youth that I draw, while ensuring a leave space to the imagination of the viewer: the fingers of honor, faces, movies, french-kiss, the nude scenes, haircuts , beard hairy. my favorite animals: deer, purple beetle. my favorite geometry: triangle. my favorite toys: legos, playmobil, QEE Art Toy. my favorite color: black
AG28B joined Society6 on August 20, 2013.
Grimace Icq_Print by AG28B
24 results
Filter