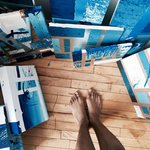 @artvomit by Paix Robinson
"I create from the bowels of my urges where purges be but sin in truth and wealth in vigorous youth"
Born in Los Angeles and raised in Oakland, CA, Paix Robinson is a writer, dancer, actor and artist. He attended The Ailey School in NYC after high school where he revived professional training in Ballet, Modern-Horton/Graham, Jazz and Carribean Dance. Upon his studies in Theatre Arts & Dance at both The University of Southern Californa and California State University, Los Angeles, Robinson went on the study Litterature, Media and Polical Science at the Universitè Paul Cezzane-Aix Marseille III, in Aix-en-Provence, France. Noted as a true inspiration, Robisnon moved into a flat just a short walk away from the famed French painter's original home and studio, from which his School was given its name. It was during this time that while being emerged in the culture of French art, food, music and society, Robinson developed his signature style and adopted the name "Artvomit".
Robinson has since published a book of poetry entitled " Don't Wake Me Up: A collection of Sparks", has been featured in Vogue Britan and Paris, GQ Japan, Huffington Post, Style.com as a model and artist.
He has choreographed and directed a number of muscials for The Skyline Performing Arts Academy-including Funny Face, Rent and Across the Universe to which he adapted the film onto the stage for the first time. Using his knowledge and natural talent for fashion and entertainment, Robinson has worked in almost every facet of his industry, whether it be Print/Online publication, Digital Marketing, Design, Runway, Fashion Editorial and TV/Film from Assitant, to Producer, Stylist, Videographer, Editor, Model and Art Director for brands that include Versace, Rag & Bone, Alexander Wang and Marc by Marc Jacobs.
Currently living in Manhattan New York, Paix Robinson is the Assosiate Editor of ALICE Magazine, where Melissa Rodwell is the Editor-in-Cheif.
Read more