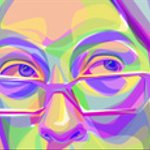 Whether you came from DeviantArt, Facebook, my Patreon, or any other venue, welcome! I'm an illustrator and activist, who graduated from Kendall College of Art and Design in 2010. You'll find artwork ranging from activist works such as the 100 Superheroines project, to concept design for the upcoming webcomics: Wilindir Dark, Bucket List and Shatter Me. You can find more of her work at: www.patreon.com/abigailsouthworth joined Society6 on August 12, 2012
More
Whether you came from DeviantArt, Facebook, my Patreon, or any other venue, welcome!
I'm an illustrator and activist, who graduated from Kendall College of Art and Design in 2010. You'll find artwork ranging from activist works such as the 100 Superheroines project, to concept design for the upcoming webcomics: Wilindir Dark, Bucket List and Shatter Me.
You can find more of her work at: www.patreon.com/abigailsouthworth
joined Society6 on August 12, 2012.