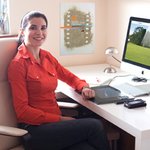 AgaGrandowicz
Designer, creator, colouring outside the lines. Holder of a Masters degree with the highest honours, in graphic design and traditional photography. GIYer. Picture books' collector. Working on a wide variety of projects and media, crossing a broad range of categories and contributing to each project on many levels – from conceptualisation through photography, graphic design to illustration. Happy receiver of art grants for film projects. Owner of agrand – a graphic design agency based in Dublin, Ireland. Publisher, co-founder of Celtana, the first publisher of children's interactive e-books promoting Irish mythology, legends and folklore. AgaGrandowicz joined Society6 on June 28, 2013
More
Designer, creator, colouring outside the lines. Holder of a Masters degree with the highest honours, in graphic design and traditional photography. GIYer. Picture books' collector.
Working on a wide variety of projects and media, crossing a broad range of categories and contributing to each project on many levels – from conceptualisation through photography, graphic design to illustration.
Happy receiver of art grants for film projects.
Owner of agrand – a graphic design agency based in Dublin, Ireland.
Publisher, co-founder of Celtana, the first publisher of children's interactive e-books promoting Irish mythology, legends and folklore.
AgaGrandowicz joined Society6 on June 28, 2013.