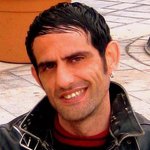 Born in 1969 in Sicily, I grew up in a little fisherman village next to Palermo. I have been a passionate photographer for more than 20 years, working with all facets of photography. In addition I am working on video projects. My photo archive includes photographs from the genres of travel and landscape photography, still life, portrait, and artistic photography. Sicily has always had a special position in my work. In sensitive and aesthetic pictures I show my homeland and its people from always new perspectives. joined Society6 on March 13, 2013
More
Born in 1969 in Sicily, I grew up in a little fisherman village next to Palermo. I have been a passionate photographer for more than 20 years, working with all facets of photography.
In addition I am working on video projects.
My photo archive includes photographs from the genres of travel and landscape photography, still life, portrait, and artistic photography.
Sicily has always had a special position in my work. In sensitive and aesthetic pictures I show my homeland and its people from always new perspectives.
joined Society6 on March 13, 2013.