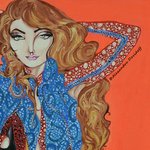 Alexandra Davidoff
Art is the reason I have hands. I like to tell stories with pencils and paint. http://www.alexandradavidoff.tumblr.com/ Instagram: https://instagram.com/alexandra.davidoff/ Behance: http://www.behance.net/alexandradavidoff Facebook: https://www.facebook.com/AlexandraDavidoffakaSisterD All images copyright © Alexandra Davidoff. All Rights Reserved. Copying, altering, editing, displaying/redistribution of these images without permission is strictly prohibited. Alexandra Davidoff joined Society6 on September 23, 2012
More
Art is the reason I have hands. I like to tell stories with pencils and paint.
http://www.alexandradavidoff.tumblr.com/
Instagram: https://instagram.com/alexandra.davidoff/
Behance: http://www.behance.net/alexandradavidoff
Facebook: https://www.facebook.com/AlexandraDavidoffakaSisterD
All images copyright © Alexandra Davidoff. All Rights Reserved. Copying, altering, editing, displaying/redistribution of these images without permission is strictly prohibited.
Alexandra Davidoff joined Society6 on September 23, 2012.
Canvas by Alexandra Davidoff
75 results
Filter