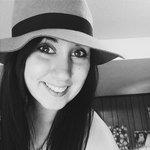 Allyson Johnson
http://allysonjohnsonart.com/ "Creating art you heart is my passion. It's a total dream of mine to create beautiful things!" Allyson Johnson is a pattern, color loving artist. Based in Tennessee, Allyson works full time on her artwork to create art you heart! Best known for her cute, hand lettered pieces, her abstract art, and bright and colorful patterns. At the age of 16 her mom suggested that she set up a store online creating business cards and invitations. Little did Allyson know, that was the beginning of her career. All work is © Allyson Johnson/Johnson Art International and may not be reproduced without permission. For licensing information and fees, please visit http://www.johnsonartinternational.com/ Allyson Johnson joined Society6 on August 28, 2012
More
http://allysonjohnsonart.com/
"Creating art you heart is my passion. It's a total dream of mine to create beautiful things!"
Allyson Johnson is a pattern, color loving artist. Based in Tennessee, Allyson works full time on her artwork to create art you heart! Best known for her cute, hand lettered pieces, her abstract art, and bright and colorful patterns.
At the age of 16 her mom suggested that she set up a store online creating business cards and invitations. Little did Allyson know, that was the beginning of her career.
All work is © Allyson Johnson/Johnson Art International and may not be reproduced without permission. For licensing information and fees, please visit http://www.johnsonartinternational.com/
Allyson Johnson joined Society6 on August 28, 2012.