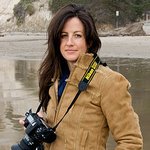 Alysia Cotter Photography
Alysia's photography career began at the age of 12 while on a safari in Africa when her brother. When he came down with a migraine he gave her his camera for the day. As you can imagine, he never got it back. That was the beginning of a love affair with photography that has now grown into a way of life. Alysia has always seen the world and everything in it as beautiful and interesting and enjoys passing this on to her viewers through her photographs. Alysia's passion is to make the mundane interesting and to capture the beauty in everyday events, whether it's on her commute to work, at the beach, or when traveling. Edward Weston said it best, "Anything that excites me for any reason, I will photograph; not searching for unusual subject matter, but making the commonplace usual." Alysia likes to take photographs that tug on an emotion deep inside. Her use of a technique called Through The Lens where she uses a digital camera to shoot through the lens of a vintage camera twin lens camera lends itself well to creating a dreamlike feel to her work. This very time intensive technique is what inspired the now very popular Instagram app. Alysia's work has been exhibited and placed in restaurants, spas, galleries and hotels around the world. She currently resides in London where she can travel at a moments notice all over Europe. Contact: alysia.cotter@gmail.com Alysia has had the great fortune of establishing a worldwide clientele and greatly enjoyed customizing work for interior designers, hotels, spas, and restaurants both in the US and Internationally. Custom orders welcome. Some of these places are: Brock Moran Home CastleRock Design Group Charles Stuhberg, Inc Gervis Design Godfrey Design Consultants, Inc Inner Living By Shannon Michelle Interior Design Associates Klm Interiors L'Auberge Spa Del Mar Miller Pollard Moscato Interiors Stowers Furniture The Cincinnatian Hotel The Mermaid Inn in New York City - all three locations Twetten's Interiors Wakefiled Interiors Alysia Cotter Photography joined Society6 on November 23, 2012
More
Alysia's photography career began at the age of 12 while on a safari in Africa when her brother. When he came down with a migraine he gave her his camera for the day. As you can imagine, he never got it back. That was the beginning of a love affair with photography that has now grown into a way of life. Alysia has always seen the world and everything in it as beautiful and interesting and enjoys passing this on to her viewers through her photographs.
Alysia's passion is to make the mundane interesting and to capture the beauty in everyday events, whether it's on her commute to work, at the beach, or when traveling. Edward Weston said it best, "Anything that excites me for any reason, I will photograph; not searching for unusual subject matter, but making the commonplace usual."
Alysia likes to take photographs that tug on an emotion deep inside. Her use of a technique called Through The Lens where she uses a digital camera to shoot through the lens of a vintage camera twin lens camera lends itself well to creating a dreamlike feel to her work. This very time intensive technique is what inspired the now very popular Instagram app.
Alysia's work has been exhibited and placed in restaurants, spas, galleries and hotels around the world. She currently resides in London where she can travel at a moments notice all over Europe.
Contact: alysia.cotter@gmail.com
Alysia has had the great fortune of establishing a worldwide clientele and greatly enjoyed customizing work for interior designers, hotels, spas, and restaurants both in the US and Internationally. Custom orders welcome.
Some of these places are: Brock Moran Home CastleRock Design Group Charles Stuhberg, Inc Gervis Design Godfrey Design Consultants, Inc Inner Living By Shannon Michelle Interior Design Associates Klm Interiors L'Auberge Spa Del Mar Miller Pollard Moscato Interiors Stowers Furniture The Cincinnatian Hotel The Mermaid Inn in New York City - all three locations Twetten's Interiors Wakefiled Interiors
Alysia Cotter Photography joined Society6 on November 23, 2012.
Rialto Ya5_Stretched Canvas by Alysia Cotter Photography
8 results
Filter