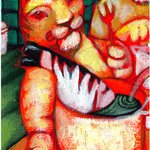 I'm a visual creator who loves drawing and painting animals. You can find my work at: http://www.amaliasatizabal.com http://amaliasatizabal.blogspot.com If you see any illustrations that you'd like to have, please just let me know and I'll be happy to make them available for you at my store. Thanks for stopping by! joined Society6 on January 27, 2012
More
I'm a visual creator who loves drawing and painting animals.
You can find my work at:
http://www.amaliasatizabal.com
http://amaliasatizabal.blogspot.com
If you see any illustrations that you'd like to have, please just let me know and I'll be happy to make them available for you at my store.
Thanks for stopping by!
joined Society6 on January 27, 2012.