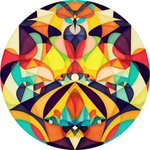 AnaiGreog
There once was a circle looking for shapes and some shapes looking for colors. This is their story. The illustrations are all digital born from a love affair between Illustrator and Photoshop. The main reason I do them is because they are really really fun to make and I just love shapes and colors and the way you can make them dance together. The fact that I am able to share them with people all over this great world makes everything even more fun so thank you so much for your interest. Big hug! Contact : georgiana.teseleanu@gmail.com Instagram/: https://www.instagram.com/anai.greog/ Tumblr : http://anaigreog.tumblr.com/ Facebook: http://www.facebook.com/pages/Anai-Greog/596399203722940 AnaiGreog joined Society6 on October 3, 2011
More
There once was a circle looking for shapes and some shapes looking for colors. This is their story.
The illustrations are all digital born from a love affair between Illustrator and Photoshop. The main reason I do them is because they are really really fun to make and I just love shapes and colors and the way you can make them dance together. The fact that I am able to share them with people all over this great world makes everything even more fun so thank you so much for your interest. Big hug! Contact : georgiana.teseleanu@gmail.com Instagram/: https://www.instagram.com/anai.greog/ Tumblr : http://anaigreog.tumblr.com/ Facebook: http://www.facebook.com/pages/Anai-Greog/596399203722940
AnaiGreog joined Society6 on October 3, 2011.