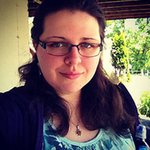 I spent my formative years in South Florida, where I attended the Dreyfoos School of the Arts in West Palm Beach. I studied Graphic Design and Illustration, at the School of Visual Arts in New York City. I currently live and work in upstate New York. I am available for commissions of (but not limited to): \- Original Paintings or Drawings \- Murals \- Glass Enamel Pieces My website is http://www.artofandreawolf.com Thanks for looking at my work! joined Society6 on June 20, 2013
More
I spent my formative years in South Florida, where I attended the Dreyfoos School of the Arts in West Palm Beach. I studied Graphic Design and Illustration, at the School of Visual Arts in New York City.
I currently live and work in upstate New York.
I am available for commissions of (but not limited to):
- Original Paintings or Drawings
- Murals
- Glass Enamel Pieces
My website is http://www.artofandreawolf.com
Thanks for looking at my work!
joined Society6 on June 20, 2013.