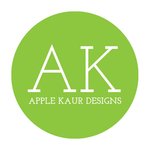 Hi and welcome to Apple Kaur Designs! Apple Kaur is a UK based surface pattern designer, creating fun and colourful patterns. Most of my patterns are initially created using a hand drawn approach and then digitally enhanced, I work this way as I love the organic process of doodling and letting my imagination flow with the rhythm of the pen. I also love the minor imperfections created when drawing by hand, as I feel this adds character to the designs. I am continuously learning and growing in this beautiful world of Surface Design and I would love for you to follow me on this amazing journey. Thanks for stopping by and please make sure you keep in touch! joined Society6 on April 18, 2013
More
Hi and welcome to Apple Kaur Designs!
Apple Kaur is a UK based surface pattern designer, creating fun and colourful patterns. Most of my patterns are initially created using a hand drawn approach and then digitally enhanced, I work this way as I love the organic process of doodling and letting my imagination flow with the rhythm of the pen. I also love the minor imperfections created when drawing by hand, as I feel this adds character to the designs.
I am continuously learning and growing in this beautiful world of Surface Design and I would love for you to follow me on this amazing journey.
Thanks for stopping by and please make sure you keep in touch!
joined Society6 on April 18, 2013.