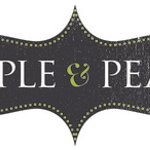 Apple&Pear is a London-based collaborative duo team of freelance designers, that provides a complete suite of branding & design service for creatives, small and growing businesses who believe in good design. Our enthusiasm for handcrafted and bespoke solutions combined with our expertise & love of design, typography & illustration ensures that every project is permeated with head, heart and soul. Take a look at our portfolio: http://www.appleandpear.co.uk joined Society6 on February 16, 2012
More
Apple&Pear is a London-based collaborative duo team of freelance designers, that provides a complete suite of branding & design service for creatives, small and growing businesses who believe in good design. Our enthusiasm for handcrafted and bespoke solutions combined with our expertise & love of design, typography & illustration ensures that every project is permeated with head, heart and soul.
Take a look at our portfolio: http://www.appleandpear.co.uk
joined Society6 on February 16, 2012.