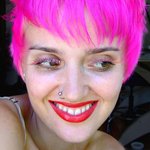 Arhia Kohlmoos
Arhia Kohlmoos grew up in the woods of Wisconsin, where she and her four sisters were raised in a one-room log cabin on twenty acres of land. They used a wood-burning stove, had no indoor plumbing, no telephone or TV, and grew most of their food in large gardens surrounding the house. The family practiced an intense, self-directed education that enabled her and her sisters to deeply explore the subjects that interested them most – music and the fine arts. Kohlmoos' singular childhood continues to be a powerful force in her work.
Kohlmoos graduated summa cum laude from Lawrence University (BA, 2006), where she studied Theatre, Filmmaking, and Italian in addition to Fine Arts. She studied art history in Spain, England, France, Italy, and the Netherlands; seeing the work of Piero della Francesca, Salvador Dali, Frida Kahlo, and Jan van Eyck in person focused and reified her signature style.
Before attending graduate school, Kohlmoos gained experience as an art educator in Lincoln, Nebraska. She worked one-on-one with young students to help them develop their talents and gain a stronger appreciation for fine art and the creative process.
As an MFA candidate at the School of the Museum of Fine Arts, Boston, Kohlmoos studied painting with Ron Rizzi, Ethan Murrow, and Gerry Bergstein. During her time at SMFA, Kohlmoos was recognized with two Dana Pond Competition Honorable Mentions and a Springborn Fellowship. Her senior thesis exhibition, entitled Totemic, was displayed at the Aidekman Arts Center, Tufts University, in April.
Read more