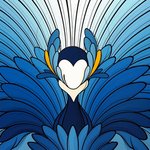 Born 1979 in Bandung, Indonesian artist Arkiv Vilmansa paints like pop and draws like a cartoonist, a beautiful blend of day-glo colour and sweeping line makes for a fine collection of powerful paintings. He's been painting, illustrating and designing cartoon-style figures since 2005. Almost the moment after completing his Bachelor degree in Architecture Arkiv took a sharp career turn into the urban arts and design and hasn't looked back since. His debut was marked with his very first vinyl figurine called "Arkiv Instant", since then he's produced many exciting paintings, illustrations and vinyl toys including a redesign of Mickey Mouse for Disney Asia. Arkiv describes himself: "I'm a half animal and a half dream. " There's a discrete undertone of social critique in his work too, cartoon violence and death being a regular theme in his earlier works. His description reflects the same silliness and complexity of his characters. Smiling cartoons flipping you the bird. Figures strangling each other. Teddy bears hanging on a rope are just some of the oddities that Arkiv paints with cheery colors and his signature curvy and graphic style. www.arkivart.com joined Society6 on January 25, 2013
More
Born 1979 in Bandung, Indonesian artist Arkiv Vilmansa paints like pop and draws like a cartoonist, a beautiful blend of day-glo colour and sweeping line makes for a fine collection of powerful paintings. He's been painting, illustrating and designing cartoon-style figures since 2005. Almost the moment after completing his Bachelor degree in Architecture Arkiv took a sharp career turn into the urban arts and design and hasn't looked back since. His debut was marked with his very first vinyl figurine called "Arkiv Instant", since then he's produced many exciting paintings, illustrations and vinyl toys including a redesign of Mickey Mouse for Disney Asia.
Arkiv describes himself: "I'm a half animal and a half dream. "
There's a discrete undertone of social critique in his work too, cartoon violence and death being a regular theme in his earlier works. His description reflects the same silliness and complexity of his characters. Smiling cartoons flipping you the bird. Figures strangling each other. Teddy bears hanging on a rope are just some of the oddities that Arkiv paints with cheery colors and his signature curvy and graphic style.
www.arkivart.com
joined Society6 on January 25, 2013.