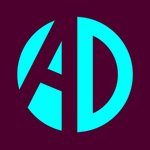 Artistic Dyslexia
Beginning November 11, 2016, new artwork will only be available on Redbubble (http://www.redbubble.com/people/artdyslexia) and TeePublic (https://www.teepublic.com/user/ArtisticDyslexia). Hi! I'm Artistic Dyslexia. My friends call me AD. I'm a full-time graphic artist, husband, dad & bum. I love drawing silly, derpy, goofy things! I draw with a Cintiq 13HD and Surface Pro 2 in Manga Studio 5. If you purchased something, I'd love to see a picture and be able to add it to my customer gallery on my website. You can use the email on my website or message/tag me on the different social media options listed on my website. I love seeing pictures from happy customers! Thanks for taking the time to look at my work. I hope it brings ya some joy! www.artisticdyslexia.com Links to stores, social media, videos and contact info. Artistic Dyslexia joined Society6 on March 15, 2014
More
Beginning November 11, 2016, new artwork will only be available on Redbubble (http://www.redbubble.com/people/artdyslexia) and TeePublic (https://www.teepublic.com/user/ArtisticDyslexia).
Hi! I'm Artistic Dyslexia. My friends call me AD. I'm a full-time graphic artist, husband, dad & bum. I love drawing silly, derpy, goofy things! I draw with a Cintiq 13HD and Surface Pro 2 in Manga Studio 5.
If you purchased something, I'd love to see a picture and be able to add it to my customer gallery on my website. You can use the email on my website or message/tag me on the different social media options listed on my website. I love seeing pictures from happy customers!
Thanks for taking the time to look at my work. I hope it brings ya some joy!
www.artisticdyslexia.com Links to stores, social media, videos and contact info.
Artistic Dyslexia joined Society6 on March 15, 2014.