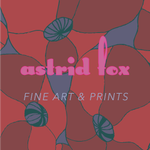 Astrid Fox
THANK YOU for visiting my profile I am an illustrator, designer and painter who enjoys balancing my art world with motherhood, co-ownership of a fashion boutique - www.globalatomic.com and other joys in life. Would love to hear from you. Drop me a line, send me photos of my products in your hands, at your home, on your wall. Astrid Fox joined Society6 on October 10, 2012
More
THANK YOU for visiting my profile
I am an illustrator, designer and painter who enjoys balancing my art world with motherhood, co-ownership of a fashion boutique - www.globalatomic.com and other joys in life.
Would love to hear from you. Drop me a line, send me photos of my products in your hands, at your home, on your wall.
Astrid Fox joined Society6 on October 10, 2012.