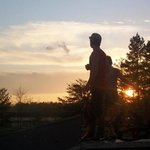 I'm a 16 year old, junior in high school. I am self taught & learning new things everyday. I love doing manipulations & things of that sort. I ride BMX in my free time, my dream is to move to NYC, I love everything about that place. joined Society6 on April 9, 2012
More
I'm a 16 year old, junior in high school. I am self taught & learning new things everyday.
I love doing manipulations & things of that sort. I ride BMX in my free time, my dream is to move to NYC, I love everything about that place.
joined Society6 on April 9, 2012.