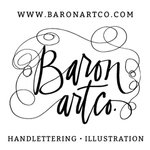 Lianne Tokey // Baron Art Co.
Baron Art Co. was founded by Canadian illustrator and designer, Lianne Tokey.
She left her job as a web developer and designer in 2003 to follow her passion for paper and created her own online boutique where she could showcase her talent as a stationery designer. In 2013, Lianne celebrated 10 years of online retailing - a lifetime in Internet years - and has expanded her product offering under the Baron Art Co. brand.
You can find more of her work and handlettering at www.BaronArtCo.com.
Read more
Lianne Tokey // Baron Art Co.'s Store
79 results
Filter