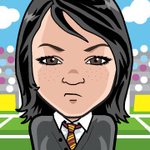 Kristina Moy
Black Out Art was born when Krissy wanted to showcase her artwork to the professional world. She wanted to show people she could make things from scratch...digitally or on paper. And that's why she keeps on drawing.
Fandom and friends are the core for inspiration. While Krissy makes original art, she likes to make lots and lots of fanart for fandoms like Harry Potter, Doctor Who, Supernatural, Merlin and Sherlock. And occasionally comics, books and films.
Every item that Black Out Art offers is made with 110% love and care. Because really, that's where the creativity is.
Read more
Kristina Moy's Store
Filter