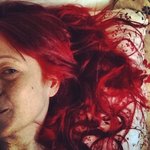 Britzombiegirl
Hey everyone! I'm a huge horror fan in all it's forms but perhaps my main love is the art of practical special effects that ranges from the incredible work of Ray Harryhausen, the genius that created the iconic animation in Jason and the Argonauts, The 7th Voyage of Sinbad and The Beast From 20,000 Fathoms etc, to Jack Pierce who created the Frankenstein's Monster make up in the 30's that formed the imagery that we all associate with the character today, right through to the incredible gore and monster make up of the wonders that are Tom Savini and Greg Nicotero, amongst MANY others of course. As a result of this obsession, I'm currently doing the Dick Smith Advanced Make Up Course which is just incredible to me, but in addition to this I love to try to my hand at various other forms of art, in particular pen and ink portraiture and acrylics. I enjoy using a cross hatch style with the pen which allows me to get great detail and depth and I try to concentrate mainly on horror icons because of my love for the genre but really it mainly comes down to the face. I love faces and trying to gain a likeness. I hope you enjoy my art :) Britzombiegirl joined Society6 on January 30, 2012
More
Hey everyone!
I'm a huge horror fan in all it's forms but perhaps my main love is the art of practical special effects that ranges from the incredible work of Ray Harryhausen, the genius that created the iconic animation in Jason and the Argonauts, The 7th Voyage of Sinbad and The Beast From 20,000 Fathoms etc, to Jack Pierce who created the Frankenstein's Monster make up in the 30's that formed the imagery that we all associate with the character today, right through to the incredible gore and monster make up of the wonders that are Tom Savini and Greg Nicotero, amongst MANY others of course.
As a result of this obsession, I'm currently doing the Dick Smith Advanced Make Up Course which is just incredible to me, but in addition to this I love to try to my hand at various other forms of art, in particular pen and ink portraiture and acrylics. I enjoy using a cross hatch style with the pen which allows me to get great detail and depth and I try to concentrate mainly on horror icons because of my love for the genre but really it mainly comes down to the face. I love faces and trying to gain a likeness. I hope you enjoy my art :)
Britzombiegirl joined Society6 on January 30, 2012.
Prints by Britzombiegirl
11 results
Filter