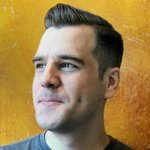 I'm NYC artist John Stephen McGregor, but you can call me Brother Brain! Classically trained, with a Fine Arts degree in Photography, I'm known for my bold, straight-lined urban landscapes. These I often construct from hundreds of photos taken at different angles that are digitally assembled to achieve perfect blueprint-like perspectives. I also express my affection for straight lines and bold color through my pixel art compositions, which I create utilizing graphical elements from old school video games. Contact: brotherbrain@gmail.com joined Society6 on October 12, 2011
More
I'm NYC artist John Stephen McGregor, but you can call me Brother Brain!
Classically trained, with a Fine Arts degree in Photography, I'm known for my bold, straight-lined urban landscapes. These I often construct from hundreds of photos taken at different angles that are digitally assembled to achieve perfect blueprint-like perspectives.
I also express my affection for straight lines and bold color through my pixel art compositions, which I create utilizing graphical elements from old school video games.
Contact: brotherbrain@gmail.com
joined Society6 on October 12, 2011.