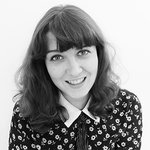 Hi, I'm Cecily Vessey. I love all things architectural, monochrome and graphic. Since graduating in 2009 i've worked to build a successful retail and wholesale business as well as working on a variety of freelance projects such as illustrations, wedding invitations, special edition cards and special edition mugs and tote bags. Please get in touch if you like my things. I look forward to hearing from you! Cecily www.cecilyvessey.com http://www.etsy.com/shop/cecilyvessey http://folksy.com/shops/cecilyvessey joined Society6 on March 7, 2012
More
Hi,
I'm Cecily Vessey. I love all things architectural, monochrome and graphic. Since graduating in 2009 i've worked to build a successful retail and wholesale business as well as working on a variety of freelance projects such as illustrations, wedding invitations, special edition cards and special edition mugs and tote bags. Please get in touch if you like my things. I look forward to hearing from you!
Cecily
www.cecilyvessey.com
http://www.etsy.com/shop/cecilyvessey
http://folksy.com/shops/cecilyvessey
joined Society6 on March 7, 2012.