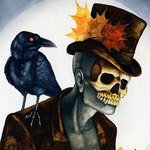 Chad Savage
For SIGNED AND NUMBERED art prints, visit http://chadsavage.storenvy.com
Chad Savage was a dark artist from the moment his pudgy little hands were able to set crayon to paper. He was the kid that loved Halloween better than Christmas, rooted for Godzilla and Dracula, and really worried his Southern Baptist parents. It was very clear early on that Chad wanted to celebrate Halloween 365 days a year.
With a degree in illustration and graphic design, 20+ years' experience drawing and designing for the horror genre and over 15 years' experience in web design, Chad got his wish. Halloween, for him, is every day. His company Sinister Visions inc. is thriving, providing web design, print design, illustration, sound design, font design and more for the horror, Halloween and haunted attraction industries. Sinister Visions currently hosts/manages close to 200 dark websites; odds are you've already been to at least 10 of them.
Chad's artwork has appeared in (and on the cover of) numerous books and magazines and garnered awards from same. His original fonts have appeared on books, magazines, DVDs, CDs, TV shows and in movies. Besides running genre sites like DarkChicago.com and ZombiePinups.com, he is the Art Director and Lead Designer for Zombie Army Productions (http://www.zap23.com), Chicago's Flashback Weekend horror convention, HAuNTcon, the TransWorld Halloween & Attractions Show, Halloween Extreme and proudly sponsors numerous dark genre events and projects.
Chad has instituted/managed dark art exhibitions for a number of conventions over the last decade like HorrorFind Weekend, Flashback Weekend, the World Horror Convention and CONvergence. He remains an active participant and proponent in the dark art community.
Chad currently lives and works outside of Chicago (OK, in Indiana) with his fabulous (and tolerant) wife, lovely daughters and their fairy dogmothers.
For more information and samples of his work, you can start with http://www.sinistervisions.com & http://www.chadsavage.com
Read more
Chad Savage's Store
Filter