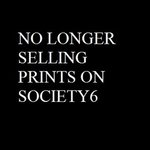 No longer selling prints on this site because I got of sick being surrounded by fake followers and false supporters, I now sell my work exclusively at Crated instead at least there I know I can go about my business and not worry about things like I have done here. And I longer want any part on a site that I've grown to hate. joined Society6 on May 27, 2013
More
No longer selling prints on this site because I got of sick being surrounded by fake followers and false supporters, I now sell my work exclusively at Crated instead at least there I know I can go about my business and not worry about things like I have done here.
And I longer want any part on a site that I've grown to hate.
joined Society6 on May 27, 2013.