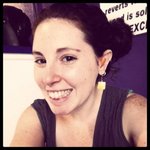 Nightly Doodles
Hello! I am an artist in Queens, New York, and I create hand drawn colorful, encouraging doodle drawings. ...affirming people is very very important to me. My drawings are my small contribution to make the big world a better place; one smile at a time. I really do hope the messages I share inspire people to feel like they are NOT alone and help them through hard times, just like they have helped me. website: www.jenipherlyn.com blog!: www.cherry-runway.blogspot.com Nightly Doodles joined Society6 on May 2, 2012
More
Hello! I am an artist in Queens, New York, and I create hand drawn colorful, encouraging doodle drawings.
...affirming people is very very important to me. My drawings are my small contribution to make the big world a better place; one smile at a time. I really do hope the messages I share inspire people to feel like they are NOT alone and help them through hard times, just like they have helped me.
website: www.jenipherlyn.com blog!: www.cherry-runway.blogspot.com
Nightly Doodles joined Society6 on May 2, 2012.