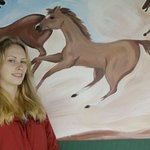 After being raised in Atlanta and spending most of her youth drawing on all of her school notes, she moved to attend the Savannah College of Art and Design. Christa graduated with a degree in Illustration in 2009. She currently works as a massage therapist and uses her art as a creative outlet. When Christa is not in her art studio or lost somewhere in the Adobe Creative Suite, you'll probably find her riding her horse or trying to figure out how to make her garden grow. Her secret talent is belly dancing and donuts are her favorite food. joined Society6 on September 26, 2012
More
After being raised in Atlanta and spending most of her youth drawing on all of her school notes, she moved to attend the Savannah College of Art and Design. Christa graduated with a degree in Illustration in 2009. She currently works as a massage therapist and uses her art as a creative outlet.
When Christa is not in her art studio or lost somewhere in the Adobe Creative Suite, you'll probably find her riding her horse or trying to figure out how to make her garden grow. Her secret talent is belly dancing and donuts are her favorite food.
joined Society6 on September 26, 2012.