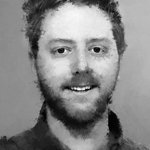 Christopher Richards
Hello, and thanks for checking out my page. I've been doing photography since high school, and in college majored in Multimedia and Graphic Design. Here you can see a selection of my favorite pictures, paintings, and other art I come up with. Write with any questions, feel free to follow me, and I hope you like my work! If you want to see more of my work or contact me, you can at my website www.ChristopherARichards.com Christopher Richards joined Society6 on July 25, 2012
More
Hello, and thanks for checking out my page. I've been doing photography since high school, and in college majored in Multimedia and Graphic Design. Here you can see a selection of my favorite pictures, paintings, and other art I come up with. Write with any questions, feel free to follow me, and I hope you like my work!
If you want to see more of my work or contact me, you can at my website www.ChristopherARichards.com
Christopher Richards joined Society6 on July 25, 2012.
Laptop Skins by Christopher Richards
26 results
Filter