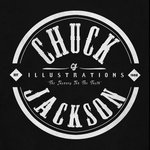 Chuck Jackson
Chuck Jackson Illustration specializes in realistic portraits and contemporary graphics. With his innovative use of digital mediums, he's able to achieve an extreme level of detail and realism. Regardless of your personal style or taste in art, Chuck Jackson Illustrations can create a unique piece of fine art exclusively for you. From logo and t-shirt designs to album covers, corporate branding and large-scale paintings, we will design a piece of art you can be proud of. Chuck Jackson Photography has already been showcased worldwide, receiving global recognition, and his artwork is quickly catching up. Why purchase pre-made artwork when you can have a piece custom designed to fit your vision? Get to know CHUCK.
Pricing:
We have numerous pricing packages that offer maximum flexibility to work with all budgets. Contact us for a free quote.
Get to know us:
Interested in having your portrait done or having a piece of artwork commissioned? For all additional information and pricing, contact us at: call 904.434.9690 or email chuck@chuckacious.com.
Read more