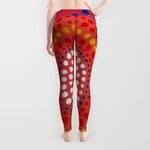 Claire Guerin is a visual artist, performance artist and VJ. She also helped co-create The Guesthouse art&residency space. Biography Claire Guerin (http://www.youtube.com/claireguerin) graduated from the Crawford in 2006, obtaining the Crawford purchase prize for her video 'diary reading'. Since 2006 she has co-created events in the Guesthouse space (Tuesday Lunch, Safehouse, Clubhouse, Intandum...), programmed and collaborated on various projects. In 2009 she started experimenting with VJing which allows her to both perform and use video live. To read an interview visit (http://skirmishcork.blogspot.com/2011/07/art-of-vj\_19.html) joined Society6 on July 17, 2013
More
Claire Guerin is a visual artist, performance artist and VJ. She also helped co-create The Guesthouse art&residency space.
Biography
Claire Guerin (http://www.youtube.com/claireguerin) graduated from the Crawford in 2006, obtaining the Crawford purchase prize for her video 'diary reading'. Since 2006 she has co-created events in the Guesthouse space (Tuesday Lunch, Safehouse, Clubhouse, Intandum...), programmed and collaborated on various projects. In 2009 she started experimenting with VJing which allows her to both perform and use video live. To read an interview visit (http://skirmishcork.blogspot.com/2011/07/art-of-vj_19.html)
joined Society6 on July 17, 2013.