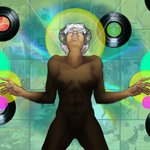 Consequence of Sound
Welcome to Consequence of Sound's Society 6 page! We're a online music publication devoted to the ever growing and always thriving worldwide music scene. You can check us out at consequenceofsound.net All our biggest articles and album reviews feature original artwork by the our talented Art Department. Here you can bring high quality prints of that awesome music-inspired artwork home, and the proceeds go to the artists! Consequence of Sound joined Society6 on October 5, 2012
More
Welcome to Consequence of Sound's Society 6 page!
We're a online music publication devoted to the ever growing and always thriving worldwide music scene. You can check us out at consequenceofsound.net
All our biggest articles and album reviews feature original artwork by the our talented Art Department. Here you can bring high quality prints of that awesome music-inspired artwork home, and the proceeds go to the artists!
Consequence of Sound joined Society6 on October 5, 2012.
Daft Punk Random Access Memories By The Cos Art Dept_Laptop Skin by Consequence of Sound
1000+ results
Filter