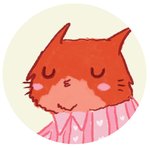 Sarah Crosby
My name is Sarah Crosby and I am a third year student at Lincoln University, UK, studying Illustration. I like to draw cats and anything cute. But I also like the complete opposite of cute so I am likely to draw anything. Please respect that all my work is copyrighted © All rights reserved. Sarah Crosby joined Society6 on April 26, 2012
More
My name is Sarah Crosby and I am a third year student at Lincoln University, UK, studying Illustration. I like to draw cats and anything cute. But I also like the complete opposite of cute so I am likely to draw anything.
Please respect that all my work is copyrighted © All rights reserved.
Sarah Crosby joined Society6 on April 26, 2012.