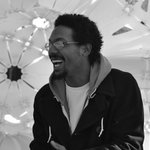 Artist Statement I see my work as a constant exercise in storytelling. I use a variety of mediums and techniques to convey narratives about my interaction with the world around me. My influences are as broad and diverse as that world itself, and so are the tools I use to express its parables. I feel that a medium (such as paint, film, sound, ect.), should be used as specialized tools to tell as a certain type of story. One story that sounds good as a song, may not work well as a film or painting. I think my job is the artist is to have the wisdom to know which medium best fits which story, and how to use that medium to express the story to my audience in the best way possible. My stories are about a range of topics, but mostly they are either commentary on society and its effects on the human condition, or manifestations of my own thoughts, conflicts, and imagination. Artist Bio Damon Davis is an interdisciplinary artist that works and resides in St. Louis, MO. Davis sporadically, yet seamlessly, weaves between different creative platforms to explore a wide range of allegories and parables that come from his interaction with the world around him, as well as the world inside his head. Davis graduated from St. Louis University with a B.A. in Communication Technology with an emphasis on Visual Communication. He is a member of critically-acclaimed, nationally-recognized experimental hip hop outfit, SNS (Scripts N Screwz). In which, he is both producer and a vocalist. He is also co-founder of art collective Civil Ape. Civil Ape is the brain-child of Davis and friend and long time collaborator Lenard Blair. Their goal with the collective is to constantly strive to create compelling work that fascinates and inspires their audience using multimedia as the catalyst. In 2012, Damon started FarFetched. Farfetched is an independent music and art imprint based out of St. Louis, MO. We specialize in creating thought provoking, honest, and innovative content for all. Here are some other places to check out my work: www.heartacheandpaint.com www.scriptsnscrewz.com www.civil-ape.com www.wearefarfetched.net joined Society6 on January 23, 2012
More
Artist Statement
I see my work as a constant exercise in storytelling. I use a variety of mediums and techniques to convey narratives about my interaction with the world around me. My influences are as broad and diverse as that world itself, and so are the tools I use to express its parables. I feel that a medium (such as paint, film, sound, ect.), should be used as specialized tools to tell as a certain type of story. One story that sounds good as a song, may not work well as a film or painting. I think my job is the artist is to have the wisdom to know which medium best fits which story, and how to use that medium to express the story to my audience in the best way possible. My stories are about a range of topics, but mostly they are either commentary on society and its effects on the human condition, or manifestations of my own thoughts, conflicts, and imagination.
Artist Bio
Damon Davis is an interdisciplinary artist that works and resides in St. Louis, MO. Davis sporadically, yet seamlessly, weaves between different creative platforms to explore a wide range of allegories and parables that come from his interaction with the world around him, as well as the world inside his head. Davis graduated from St. Louis University with a B.A. in Communication Technology with an emphasis on Visual Communication. He is a member of critically-acclaimed, nationally-recognized experimental hip hop outfit, SNS (Scripts N Screwz). In which, he is both producer and a vocalist. He is also co-founder of art collective Civil Ape. Civil Ape is the brain-child of Davis and friend and long time collaborator Lenard Blair. Their goal with the collective is to constantly strive to create compelling work that fascinates and inspires their audience using multimedia as the catalyst. In 2012, Damon started FarFetched. Farfetched is an independent music and art imprint based out of St. Louis, MO. We specialize in creating thought provoking, honest, and innovative content for all.
Here are some other places to check out my work: www.heartacheandpaint.com www.scriptsnscrewz.com www.civil-ape.com www.wearefarfetched.net
joined Society6 on January 23, 2012.