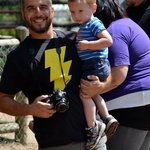 Dantastic Photos
Reader, writer, photographer. That sums it up pretty well. In addition to taking a couple hundred pictures a week, I also write a couple book reviews a week on Goodreads where I'm the #7 reviewer of all time in the US. I've also written a few novels but haven't published anything as of yet. Blog: http://dangerousdansblog.blogspot.com/ Other blog: http://dangerousdansbookblog.blogspot.com/ Other other blog: www.shelfinflicted.com Goodreads: http://www.goodreads.com/user/show/870755-dan Dantastic Photos joined Society6 on May 2, 2012
More
Reader, writer, photographer. That sums it up pretty well.
In addition to taking a couple hundred pictures a week, I also write a couple book reviews a week on Goodreads where I'm the #7 reviewer of all time in the US. I've also written a few novels but haven't published anything as of yet.
Blog: http://dangerousdansblog.blogspot.com/ Other blog: http://dangerousdansbookblog.blogspot.com/ Other other blog: www.shelfinflicted.com Goodreads: http://www.goodreads.com/user/show/870755-dan
Dantastic Photos joined Society6 on May 2, 2012.
Dantastic Photos's Store
1000+ results
Filter