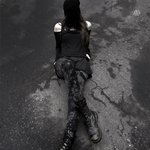 Danielle Fedorshik
27 year old based out of Northern Virginia. Get in touch with me if you are interested in using my photography for a project of your own or to commission a texture/abstract shot for your needs: dfedorshik@yahoo.com More of my work can be viewed here: http://mountainstwin.blogspot.com/ NOTE: I used to go under the name 'Metalographer', but all of my new work will be under my full name- Danielle Fedorshik. Danielle Fedorshik joined Society6 on March 11, 2013
More
27 year old based out of Northern Virginia.
Get in touch with me if you are interested in using my photography for a project of your own or to commission a texture/abstract shot for your needs:
dfedorshik@yahoo.com
More of my work can be viewed here:
http://mountainstwin.blogspot.com/
NOTE: I used to go under the name 'Metalographer', but all of my new work will be under my full name- Danielle Fedorshik.
Danielle Fedorshik joined Society6 on March 11, 2013.