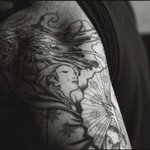 Dave Greco
Dave Greco received his BFA in Illustration from Ringling School of Design in 2004 in Sarasota, FL. After graduating, he joined EA Tiburon where he contributed to a variety of titles including Madden and Superman Returns. In 2006, he became part of THQ's Kaos Studios in New York City as a Senior Concept Artist. A key contributor to the studio's freshman effort, Frontlines: Fuel of War, Dave helped build a strong concept team that is the cornerstone of Kaos Studios' creative heart. His major contribution was in the production of Homefront, where Dave focused on acting as an ambassador between the art and design team, bringing the rich world of Homefront to life through his work. He is currently working as a Lead Concept Artist for Kingsisle Entertainment in Austin, TX. Dave Greco joined Society6 on March 25, 2013
More
Dave Greco received his BFA in Illustration from Ringling School of Design in 2004 in Sarasota, FL. After graduating, he joined EA Tiburon where he contributed to a variety of titles including Madden and Superman Returns. In 2006, he became part of THQ's Kaos Studios in New York City as a Senior Concept Artist.
A key contributor to the studio's freshman effort, Frontlines: Fuel of War, Dave helped build a strong concept team that is the cornerstone of Kaos Studios' creative heart. His major contribution was in the production of Homefront, where Dave focused on acting as an ambassador between the art and design team, bringing the rich world of Homefront to life through his work.
He is currently working as a Lead Concept Artist for Kingsisle Entertainment in Austin, TX.
Dave Greco joined Society6 on March 25, 2013.
Dave Greco's Store
81 results
Filter