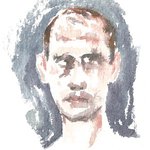 David Donar
I am an illustrator that explores various genres from cartooning, landscapes, and figurative work. I vary my medium from digital to traditional but always with some kind of representational theme. I love to sketch and love to travel! Many people take photographs to record their journey and I too love to snap a picture but drawing really puts you in the environment. Just the act of drawing forces you to sit still to record not only the visual setting but the other senses come alive. I find traveling alone is the best situation in capturing a good sketch. Usually when I am with friends or family, I feel obligated to rush and never feel that I have given the drawing a fair attempt. I love blending old fashion technology of a pen and sketchbook with the latest cyberspace tools! David Donar joined Society6 on August 30, 2013
More
I am an illustrator that explores various genres from cartooning, landscapes, and figurative work. I vary my medium from digital to traditional but always with some kind of representational theme.
I love to sketch and love to travel! Many people take photographs to record their journey and I too love to snap a picture but drawing really puts you in the environment. Just the act of drawing forces you to sit still to record not only the visual setting but the other senses come alive. I find traveling alone is the best situation in capturing a good sketch. Usually when I am with friends or family, I feel obligated to rush and never feel that I have given the drawing a fair attempt. I love blending old fashion technology of a pen and sketchbook with the latest cyberspace tools!
David Donar joined Society6 on August 30, 2013.