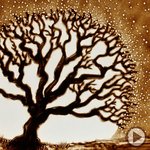 David.Myriam
The artist David Myriam discovered his vocation in the 90, with drawings, comics, poems, short stories, animation films...
:: In 1998, he discover sand drawing, and makes and sand animation films since 2004. :: Since 2005, he produced live sand performances (See http://tramage.com) for various events and live performances (festivals, concerts, theater, opera, corporate...).
:: His black and white drawings, mostly with ink, have a symbolic aspect, clinical, sometimes almost abstract. There is sometimes eyes of a child simplicity, or alien point of vue. With the revolt as a motor. Unreal aspects of black and white light this world want to encourage us to open our eyes.
:: His creations with sand are often softer, more poetic.
----------- Websites // Sites web ----------- :: Professional: http://tramage.com :: Facebook: http://facebook.tramage.com :: Artistic: http://art-engage.net :: Videos online :: https://vimeo.com/sandanimation/ + http://www.youtube.com/user/DavidMyriam + http://www.dailymotion.com/DavidMyriam
// Français : L'artiste David Myriam découvre sa vocation dans les années 90 : dessins, BD, poèmes, nouvelles, films d'animation...
:: En 1998, il découvre le dessin sur sable, et réalise des films d'animation de sable depuis 2004. :: Depuis 2005, il réalise des performances de dessin en direct sur sable (Voir http://tramage.com) pour divers événements et spectacles vivants (festivals, concerts, théâtre, opéra...).
:: Ses dessins noir et blanc, la plupart du temps à l'encre, ont un côté symbolique, clinique, presque abstrait parfois. On y trouve parfois la naïveté d'un regard d'enfant ou d'extraterrestre. Avec la révolte comme moteur. Les facettes irréelles du noir et blanc veulent éclairer ce monde pour nous inciter à ouvrir nos regards, à ré-agir.
:: Ses créations avec le sable sont souvent plus douces, plus poétiques.
Read more