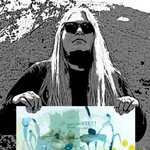 Deb Haugen
I'm an artist, it's pretty simple.
Art is my life.....that and ice cream.
People have tagged me "the organic artist" because I'm fascinated with time and layering, the evolution of the Earth. I married a surfer, we care very deeply about the environment, if I'm not in some tide pool on the North Shore, I'm probably walking the creek bed behind our home...
I split my time between Malibu and Honolulu.....I know, I know my two little pieces of paradise.
I supply Fine Art to TV, Film & Commercials, some of my clients are Desperate Housewives, CSI-Miami, Revenge, Two and a Half Men, House MD, McDonald's, M&M's, AT&T, CVS-pharmacy, Toyota, Sony, Budweiser, Crate and Barrel, and The Muppet Movie 2012 to name just a select few.
For a complete bio and client list go to my fine art site and check them out!
http://www.theorganicgallery.com
My Surf & Tropical line is available at...
http://www.denydesigns.com/collections/deb-haugen-all-art
If you have questions write me, I'm a nice person!.... alohablocks@aol.com
Aloha, and Mahalo for stopping by......Deb
Read more
Deb Haugen's Store
14 results
Filter