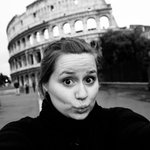 Desiree Mostad
With quite a bit of 'Vagabond' blood in her veins, Desiree has been traveling the world and of course with her camera at her side. Her true love is photographing people, their emotion, and life around her as she sees it. Originally from Northern Minnesota and currently based out of Minneapolis, Desiree's passion and love of travel has allowed her to create a substantial collection of images of people and places around the world. www.desireephoto.com Desiree Mostad joined Society6 on May 14, 2012
More
With quite a bit of 'Vagabond' blood in her veins, Desiree has been traveling the world and of course with her camera at her side. Her true love is photographing people, their emotion, and life around her as she sees it. Originally from Northern Minnesota and currently based out of Minneapolis, Desiree's passion and love of travel has allowed her to create a substantial collection of images of people and places around the world.
www.desireephoto.com
Desiree Mostad joined Society6 on May 14, 2012.