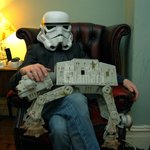 I'm a Photoshop thugster, I used to be a mugster. An if you like mash ups, you think I own a drugstore... Star Wars® is a registered trademark of Lucasfilm Ltd and now Disney. I am not affiliated with George, Walt or the SW legacy at all. I am also not Robin Gunningham... joined Society6 on July 30, 2012
More
I'm a Photoshop thugster,
I used to be a mugster.
An if you like mash ups,
you think I own a drugstore...
Star Wars® is a registered trademark of Lucasfilm Ltd and now Disney. I am not affiliated with George, Walt or the SW legacy at all.
I am also not Robin Gunningham...
joined Society6 on July 30, 2012.