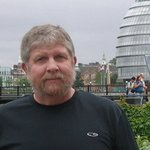 Eldon Ward
With my paintings, I strive to provide a break from day-to-day "functional" concerns; and create opportunities to consider a subject, in a way it may not have been considered before. This is a welcome change after my previous career: Kind of like Happy Hour after a long day of work.
My initial goal with a painting is to create an interesting image – something that may spark the curiosity of a viewer at a glance and prove to be worth a longer look and/or repeated viewing. My paintings will typically include references to relationships between built and natural environments. I'm not really concerned with "style" or most traditional studio techniques; and I missed the class where they taught that a frame should go on the outside of a painting.
I do paintings with water-based paints on salvaged hollow-core doors and other recycled building materials. This keeps the doors out of the landfill (at least for a while), and they work well for the hard-edged approach I like to use. Also, I like the idea of windows and doors conveying us – visually and/or physically – between the security of indoor space to the less certain world outside. The proportions of standard doors, however, are rarely ideal for most compositions, and I want to demonstrate that this media is a flexible, viable alternative to canvas. So I frequently assemble multiple doors – or parts of doors – patched and repaired with scrap lumber, into more appropriate proportions: usually approximating "golden rectangles". I often go on a whole math/geometry head-trip about golden spirals, Fibonacci series numbers, mean and extreme ratios, etc. Anyway, it all ties nicely with the whole built vs. natural idea: Trust me.
Recently, I saw an exhibit of work by indigenous Australians who – for various reasons – only began completing or showing their art when they were beyond the age of 50. The exhibit was called "Emerging Elders". I guess – if I need a label – "Emerging Elder" is something to shoot for. Emerging is the tricky part though: Isn't it?
Read more